Keep your finger on the pulse of your deliverability.
It's estimated that over 20% of legitimate, permission-based email is sent to the Spam folder. So after spending time and money on campaigns, any message that doesn't land in the Inbox is wasted spend. By leveraging seedlist-based monitoring, you'll be able to drill down into individual messages and diagnose where your deliverability falls short to improve your inbox placement.
How does seedlist-based monitoring work?
A "seedlist" is a list of several hundred test email addresses from different Internet Service Providers. While sending an email campaign you can send to these seed addresses along with your regular email addresses. Our automated system checks the Inbox and Spam folder of each of these email addresses, records where your email showed up, and reports back to you.
Extensive seedlist coverage for North America and B2B
Our seedlist of hundreds of test addresses gives you a full snapshot of your deliverability in North America and to B2B spam filters. Additional coverage is provided for several popular European mailbox providers.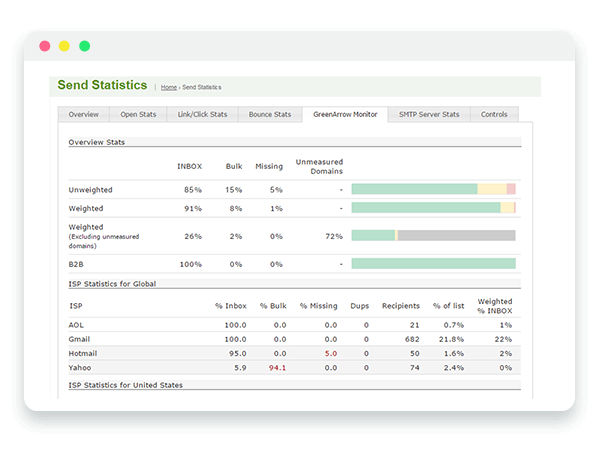 View weighted averages
When integrated with GreenArrow Engine or Marketing Studio, the seedlist result data is combined with the percentage of your list that is at each monitored domain name to provide a weighted average giving a more accurate picture of your email deliverability.
1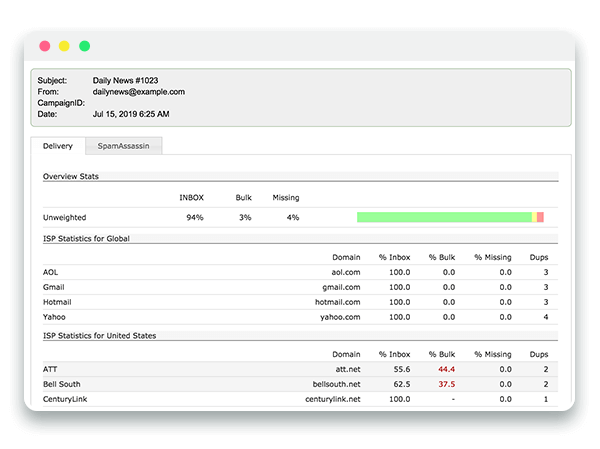 Integrated into GreenArrow Engine and Marketing Studio
Your campaigns can be automatically seeded, and your deliverability results will be included directly in your campaign reports.
2

Another customer success story
"When we've had weird questions, we've always found the support very responsive and very helpful. And being able to have access to an engineer immediately has been amazing for us."
Raphael Burnes
iPhone Life
Ready for a test drive?
When you've got questions, there's nothing quite like seeing our software in action. Schedule a demo with us and we'll help you figure out how it can work for you.